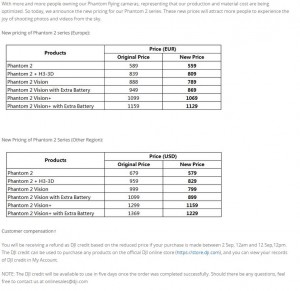 Breaking news – important enough for a blog post.
Prices of all DJI Phantom 2 models have been reduced – some by 100′s of dollars. An image of the new prices is posted below.
As one example, the top of the line Phantom 2 Vision + has been reduced from $1350 (appox) with one battery – to $1229. with two batteries. Valuing the extra battery at $100 (they cost more), that's a savings of $220.
Here is a link to that particular model.
The bare Phantom 2 as well as the unit with a gimbal are also reduced. You can see all the models and prices by going to the Amazon Drone Store at this link.
Note – your favorite retailers online and around the world should also show a reduction in price – as this is official from DJI.